Our passion inspires us
to reach new heights.
Products
In addition to our portfolio of standard screen-printing products and finishes, we develop high-tech solutions in technical screen printing and printed electronics. Therefore, we have not only the technology but also the know-how. With many years of experience, we would be happy to advise you on topics such as printed input- and touch systems, the production of a wide variety of security films and sensors using screen-printing or the further development of your prototypes. In addition to volume runs and product development, we are open to scientific projects and small screen and digital printing runs.
Standard screen-printing – Printing and further processing of screen-printed products from a single source
Whether stickers, advertising and warning signs, refinements, labeling of device fronts or printing on a wide variety of surfaces using the screen- or digital printing process, Freudenberg is your competent industrial partner.
In addition to our modern and diverse range of screen-printing machines, our pre-press with its own covering and exposure of the printing forms using the computer-to-screen process, offers the best conditions for the production of high-quality screen-printed products on a wide variety of substrates. With a maximum print format of 1.4x1m, we also implement non-everyday products. In addition to printing, Freudenberg offers a variety of further processing options using modern laser, plotter and punching systems.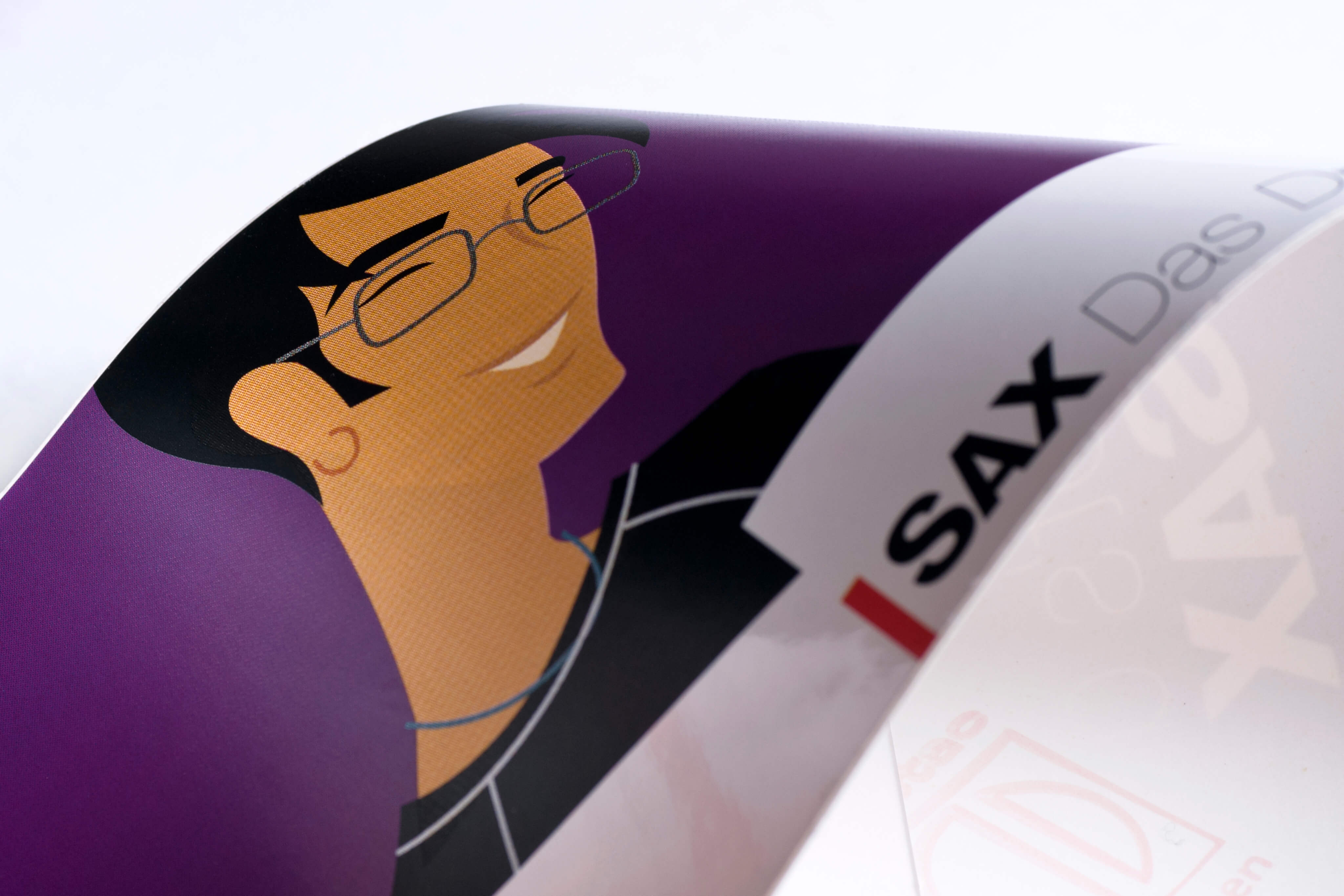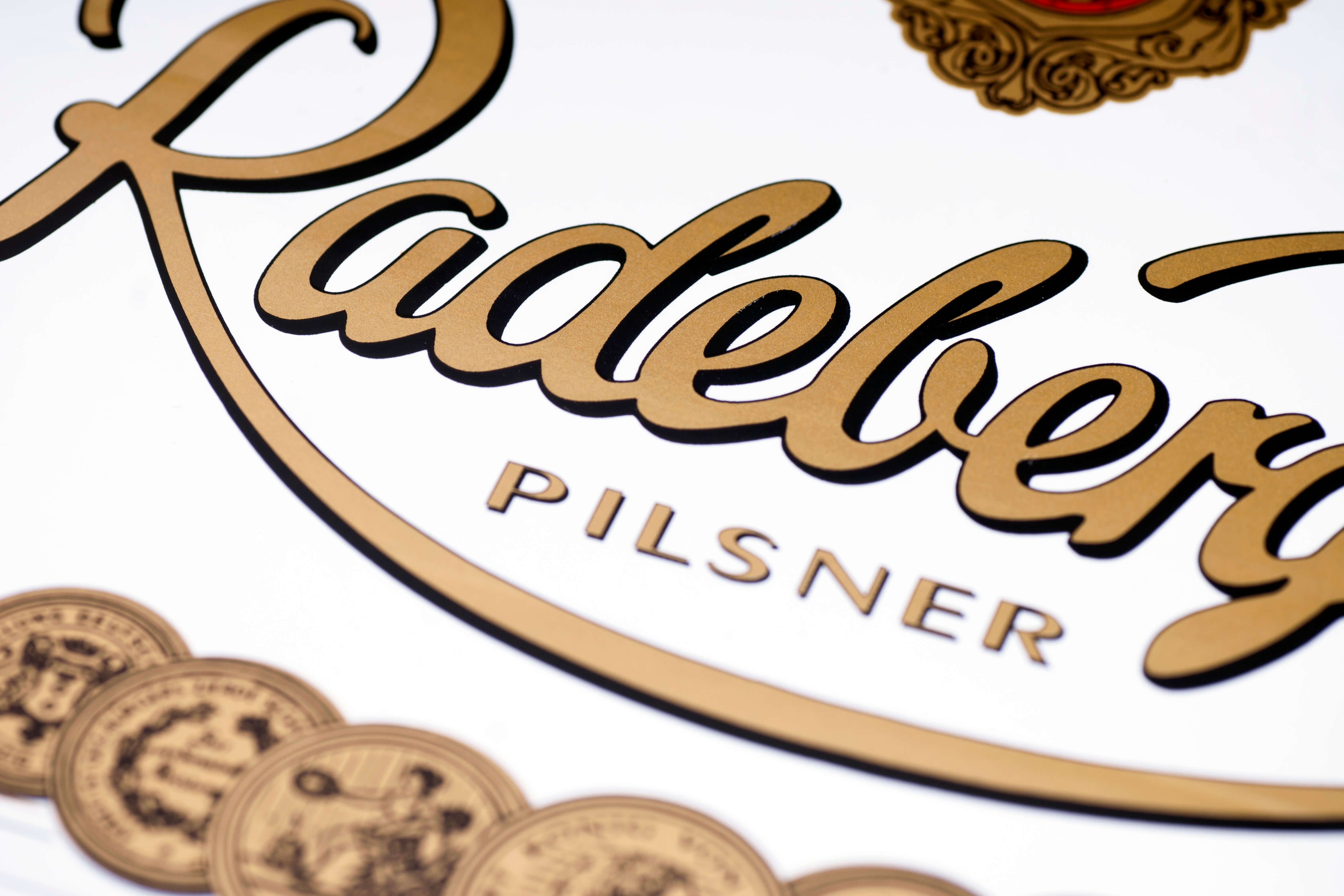 Membrane keyboards - With a sense of touch and know-how we ensure the best possible user-friendliness
Membrane keyboards are complete input systems straight from our screen-printing shop. They consist of various printed film layers, with the decorative film forming the first layer as a direct operating interface. Beneath this, in addition to a retaining foil, is a printed circuit that connects the various elements and enables the connection to the necessary electronics. This basic equipment can be expanded with various snap domes, capacitive buttons, printed sliders and single or multicolored SMD LEDs for better usability.
To guarantee a long service life for our products, the conductor tracks are printed on the circuit foil with conductive silver and the contact points are also coated with abrasion-resistant graphite. The membrane keyboards also have a self-adhesive back and can therefore be easily attached to all metal and plastic surfaces. In addition to metal snap domes, which provide differentiated feedback when operated, further customization of our keyboards is possible. Here are just a few examples: Structured coatings guide the user via their sense of touch, coloured filters make display elements invisible when they are not in use, and daylight and fluorescent colours ensure a better overview in changing light. Even the height of the membrane keyboard can be adjusted if required. You have a special case? No problem. Together we are guaranteed to find your special solution.
Front foils - With input systems from Freudenberg you are prepared for everything
Industrial terminals must be robust, flexible and at the same time understandable and easy to use. In addition to plastic housings, we also offer variants made of stainless steel and aluminium for increased resistance. The frames are milled from solid material and can be anodised, powder-coated or painted depending on the requirements.
Touch systems have established themselves as display solutions. They are unbeatable in their ease of use and flexibility. In addition to the proven glass touch, Freudenberg also offers the light and robust plastic touch - as a pressure-sensitive 4-wire touch of any size. In connection with highly transparent decorative foils and resistant structured foils, customers receive an optimal input system according to their own ideas.
Front panel production - The production and further processing of device fronts is also part of our portfolio
Also the production and further processing of front panels belongs to our portfolio. As shroud or support plate for membrane keyboards there are an important part of almost every technical device. As a versatile partner in the production and further processing of industrial products we create here Synergies within our company.
To produce front panels, we only use aluminium alloys that are resilient and ideal for further processing. The fronts can be anodised, powder-coated, painted, printed or covered with a decorative film in further work steps.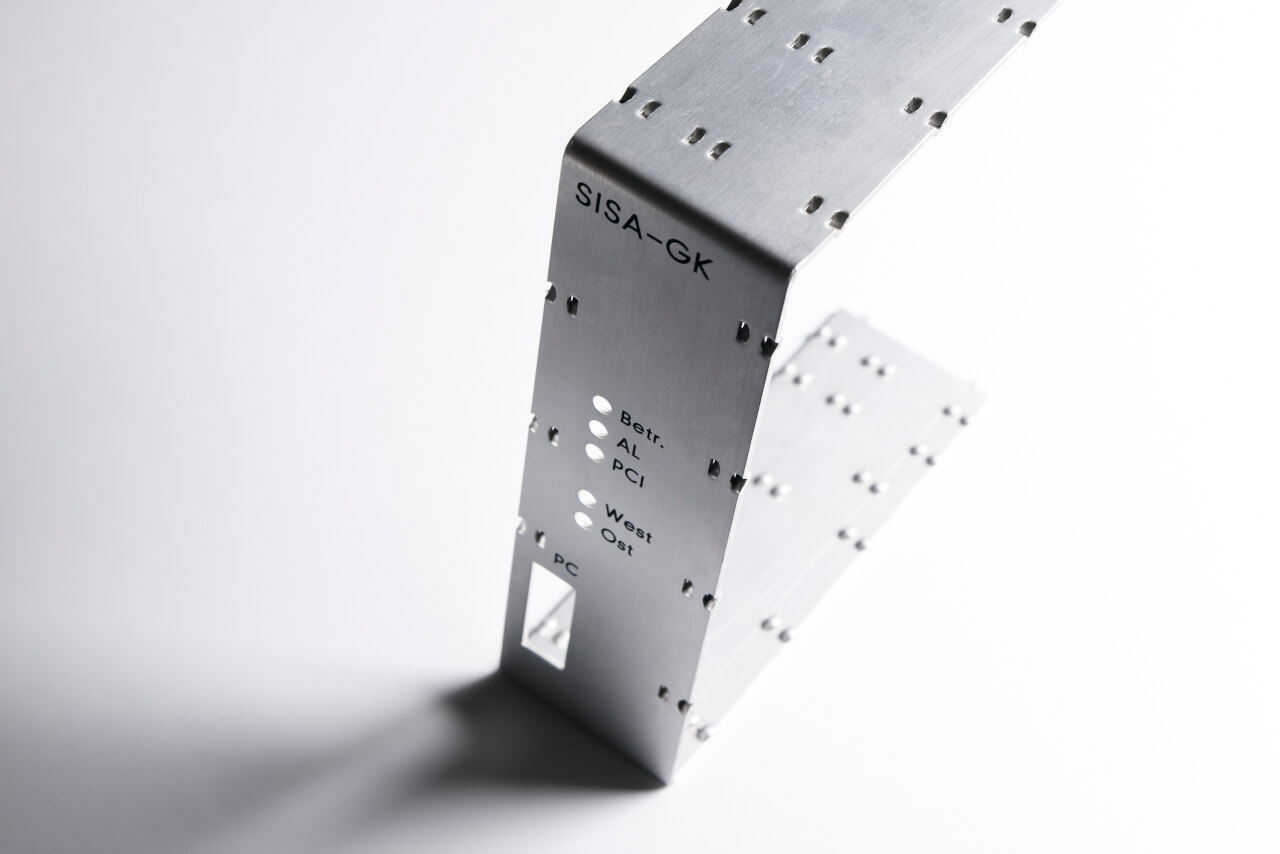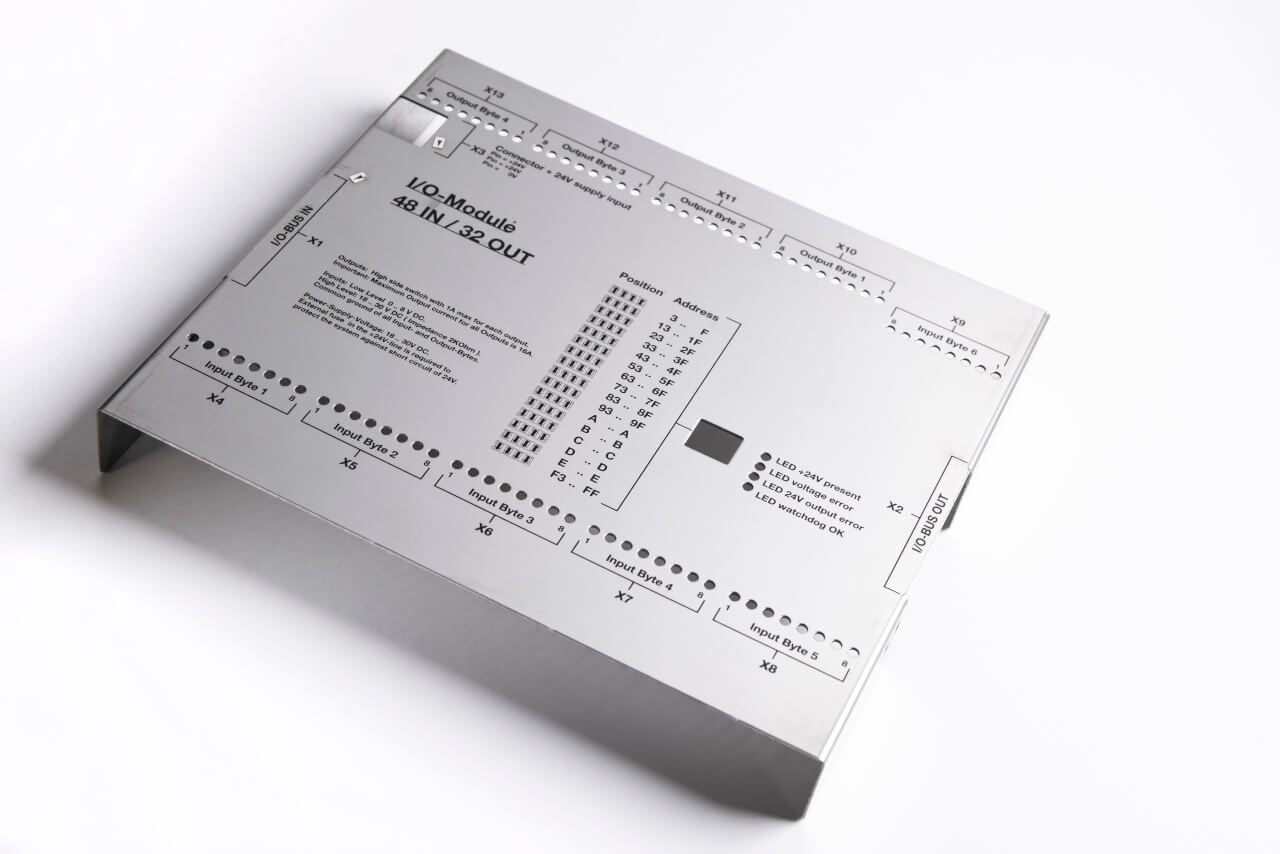 Printed electronics – Freudenberg is printing on the future. Print with us!
Screen printing has long been an integral part of electronics. Printed circuits, potentiometers or antennas are now only a small part of the possibilities that screen printing can offer in electronics production. As a modern industrial company, Freudenberg offers a wide range of services in this area.
Whether paper, foil, textiles or glass, there are hardly any limits to the possible substrates in screen printing. Our modern machine park offers the possibility of coating a wide variety of substrates with functional inks. In addition to the series production of established products such as safety foils, sensors or bursting discs, Freudenberg is open to new projects in this area and is happy to be your development partner.
Glass printing – Graphics and functionalities directly printed on glass
In addition to printing graphic elements on glass, special functional inks make it possible to coat glass surfaces directly with circuit paths and functionalities. After the graphic surface has been printed, the glass can be coated directly with the necessary conductor tracks for capacitive keys or LEDs, for example. New integration processes enable the gluing and soldering of electronic components onto the printed structures directly after the printing process. As a result, in addition to the printed design and the printed circuit, the complete electronics can be directly integrated in our screen-printing shop. This enables the necessary electronics for touch fields, NFC applications and much more to be integrated directly on the glass.
On the following video and picture, you can see a capacitive glass keyboard developed by Freudenberg. The keyboard consists of a carrier plate which is completely printed and assembled in our production. Therefore, the glass plate is first printed with the graphic surface behind and then the conducting paths for the capacitive buttons are coated. The necessary electronics were then soldered directly onto the printed conductors using automatic placement machines.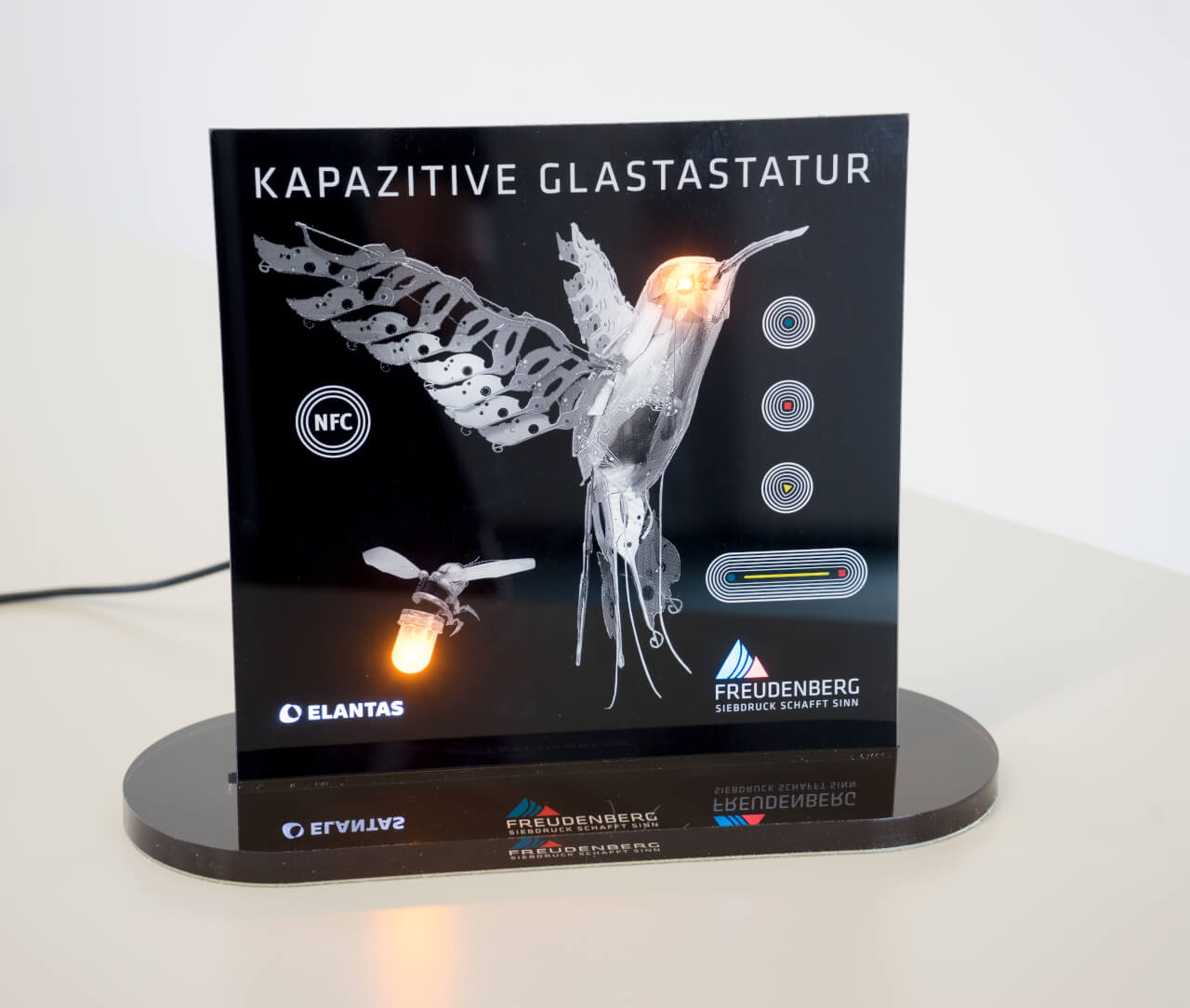 Textile-printing – Smart Wearables made using screen-printing
We are working intensively with partners on the integration of printed functional inks in the field of smart textiles. For example, we are already successfully integrated screen-printed heating circuits in different textiles or printed them directly on the material. Besides the integration of printed electronics for the heating of textiles the market offers a wide range of possible applications for the integration of printed electronics in smart textiles and therefore attractive economic opportunities.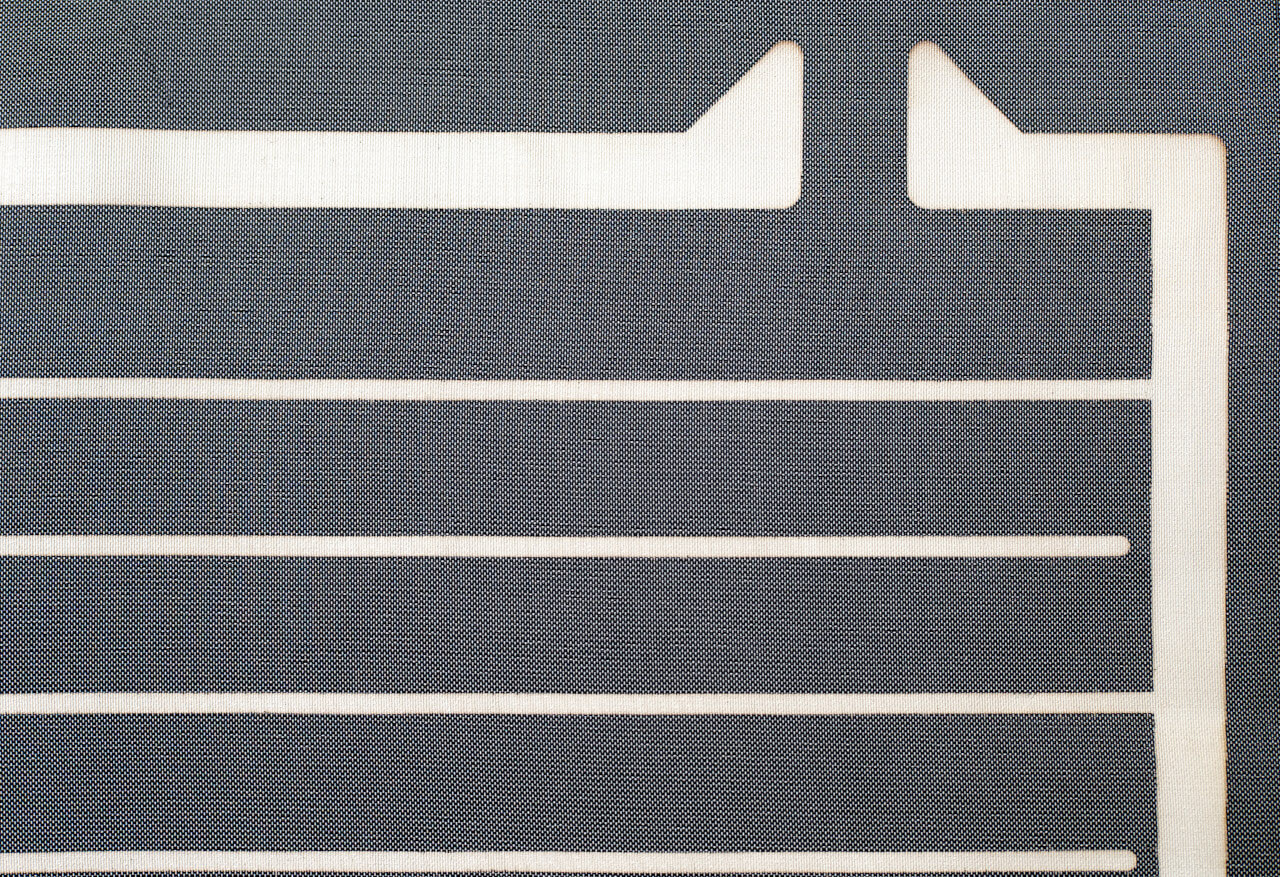 Special products - Production according to customer requirements
Visions are not just for dreaming! You developed a prototype an want to produce it?
Or you developed a special production that still needs an electronic operating system?
Freudenberg offers you competent advice on the way from the prototype to your volume production.
If your very special ideas of appearance and function are only a stone's throw away from reality, then place your trust in Freudenberg's many years of experience. Whether a special product design, individual keyboards and input fields or special embossing and UV coating - our special printing shop gives your ideas the right shape. Are you looking for a partner who will help you to make the seemingly impossible possible? At Siebdruck Freudenberg, your concept will be printed according to your ideas. We would be happy to advise you and find a way.